Home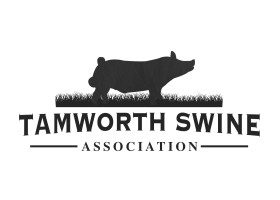 The Tamworth Pig
The Tamworth originated in Ireland where they were known as "Irish Grazers", being given that name due to the fact that they were such wonderful foragers. About 1812 Sir Robert Peel, being impressed with the characteristic of these hogs imported some of them to his estate at Tamworth, England. It is from this place they derived their name. An English authority, who calls it the "Mahogany" or "Grizzly" pig, says it was extensively bred in several of the midland counties of England early in the nineteenth century. When the droves were mainly kept in the woods and forests. They are not a composite breed, and are thought by many to be one of the oldest and purest breeds in Britain.
---
News
2021 Tamworth Scholarship Gilt
39-6
Ziyad X Bently X Guess What. This female comes from an incredibly marked litter. All pigs were born perfectly marked zero black or white. We did have one blonde female in this litter. Farrowed through the night completely unassisted as well.
A little about the sow and her Mother. This gilts mother is known on the farm as 7-10 Ro. Her as well 4 littermate sisters were purchased from RNC Showpigs as babies. Their entire litter was exceptional in color as well as conformation. The Granddam of this gilt is JOHN18 8-5, She herself is one impressive lady. We have actually bought every female available except one out of her three litters she's had. The first being the 7's, the next litter being the 3's which many people will probably remember. The 3 litter all extremely well colored as well granted us the Roeber Gilt that was extremally successful in Iowa and ended her career as 5th Overall at the National Jr Show in Des Moines, another 3 litter gilt wins her county fair in Indiana, and another female was extremally successful in Florida as well. We worked with RNC to breed this female to one of our boars here and quicedently landed on Ziyad. Do to some unforeseen circumstances the litter was born and only one female made it which is still with them. The male pigs sold extremely well were very nicely marked. There was only one who we saw that was questionable. This is one of my favorite things about this sow line, its consistency not only in quality but color as well. Underlines and vulva set are incredible and the two boar pigs that are actually littermates to the gilt offered show all the signs to be extremely reproductive as well. The gilts we've farrowed out of this sow line do it on their own as well.
 A little about her sire. Ziyad, is a Zeeter X Zetta. This mating has been done twice we enjoyed it so much the first go. Ziyad is actually a littermate to the Res Red OPB at the National Western and he's a full brother to Zeety the female Tate George went undefeated with on the Indiana Jackpot circuit and ended her career 3rd overall at the National Jr Show in Des Moines. Zeeter, Ziyad's sire is a littermate to the Champion Red OPB Barrow at the American Royal. Zetta 43-5 is Ziyad's mother, she's also Zoo Animal, Zip Zap, Zohan, Zoo Lander, Zammy 8-1 (Champion Red OPB Gilt at the American Royal) 8-3 (Res Red OPB Gilt at American Royal), Champion, Reserve, and 5th overall at Springfield Jr Nationals.
 39-6 is a littermate to the Champion Red OPB Gilt at the Audible as well. When Tom asked in a conference call about a donation gilt Troy and I didn't really hesitate much on we'd like to do it. It was just more of which one to do it with. We believe this gal was the one. She had a great career jackpotting in Arkansas for a young man and now she's home had all her vaccines and running in our finishing floor preparing to be bred to the boar of your choice. She sells open and every penny goes back to our organization. We can't say THANK YOU enough to the Tamworth Association for allowing us the opportunity to offer a female of this caliber to exchange hands and do it in the fashion of supporting our young individuals to the fullest capacity.
God Bless,
Troy Walker & Peyton Hill
2020 National Show Winners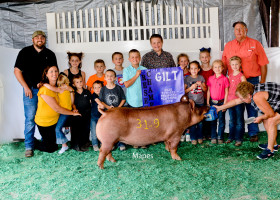 Reserve Grand Champion Gilt
Shown by Wade Smith, New Vienna, OH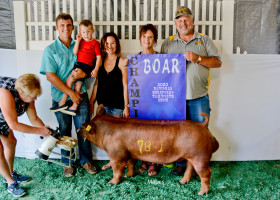 Grand Champion Boar
Shown by Caleb Neier, Coatesville, IN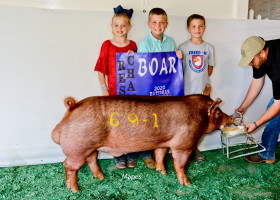 Reserve Grand Champion Boar
Shown by Corbyn and Alexia Wilt, Lebanon, IN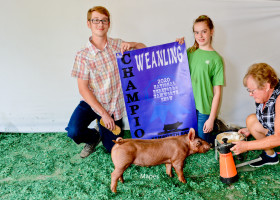 Champion Weanling Gilt
Shown by Wunderlich Family Showpigs, Mooresville, IN
---
For more information see our Tamworth History page.